Souvenir Ties & Cufflinks
Welcome to our souvenir ties page. These can be worn to formal occasions or given as a gift. These neck ties are New Zealand themed neck ties including sheep ties, and kiwi ties, both icons of New Zealand. Towards the bottom of the page is also a small collection of NZ inspired Cufflinks including paua cufflinks and NZ themed cufflinks. The "All Blacks" are New Zealand's international rugby team, Rugby is as popular in the southern hemisphere as Grid Iron is to the USA (much more so in New Zealand of course). The All Blacks Neck Ties are great as gifts for All Black fans and rugby collectors.
All Black Tie 1
$ 34.70 (NZD)
Black and white with fern emblem
Striped All Black Tie
was $ 34.70 (NZD)
now $21.66 (NZD)
2 x Only Available
Silver grey and black stripes
NZ Kiwi Cufflinks
$31.22 (NZD)
NZ Silver Fern Cufflinks
$31.22 (NZD)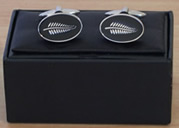 Blue Paua Cufflinks
$17.31 (NZD)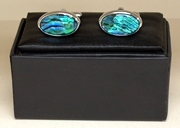 Great New Zealand Souvenir Ties including All Black Ties.
Images copyright © 2006 - 2017 by Simply Souvenirs Ltd. All rights