New Zealand Chocolate
You can take it from us...We reluctantly decided to have a taste test, just to be sure that these scrummy chocolates were up to our very high sweet tooth standards and yes they are! A definite must for the sweet tooth. Scrumptious New Zealand Chocolate gifts. These amazing chocolates taste incredible and will make wonderful gifts for so many people and so many different occasions. The below chocolates are the arguably the best of New Zealand made chocolates and come in a wonderfully presented box. Yes once again we have tested and approved these before putting them on our website. Due to customer demand we are now introducing the famous Whittaker's chocolate bars. Giftsnz ship worldwide as gifts or souvenirs of a visit to New Zealand. Great New Zealand Souvenirs & Gifts.
Squashed Possums
Chocolate Coconut Roughs 100g
$6.92 (NZD)
Kiwi Poo
Chocolate Coated Raisins 125g
$6.92 (NZD)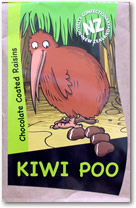 Pukeko Poo
Orange Coated Chocolate Balls 125g
$6.92 (NZD)
Sheep Droppings
Chocolate Coated Peanuts 125g
$6.92 (NZD)
Cow Poo & Flies
Coconut Roughs & Gummy Flies125g
$6.92 (NZD)
About Whittaker's Chocolate
It was in 1896 when James Whittaker who was a confectioner in England jumped onto a ship bound for New Zealand
and opened up his own business in Wellington. He has been making arguably the worlds best chocolate ever since.
In 1913 his sons went into the business forming J.H.Whittaker & Sons. Today the Whittaker business is still owned
by the family and run by Brian and Andrew Whittaker.
Most important of all Whittaker's chocolates do not contain any Palm Oil at all!
New Zealand Chocolate
Images copyright © 2006 - 2017 by Simply Souvenirs Ltd. All rights reserved.